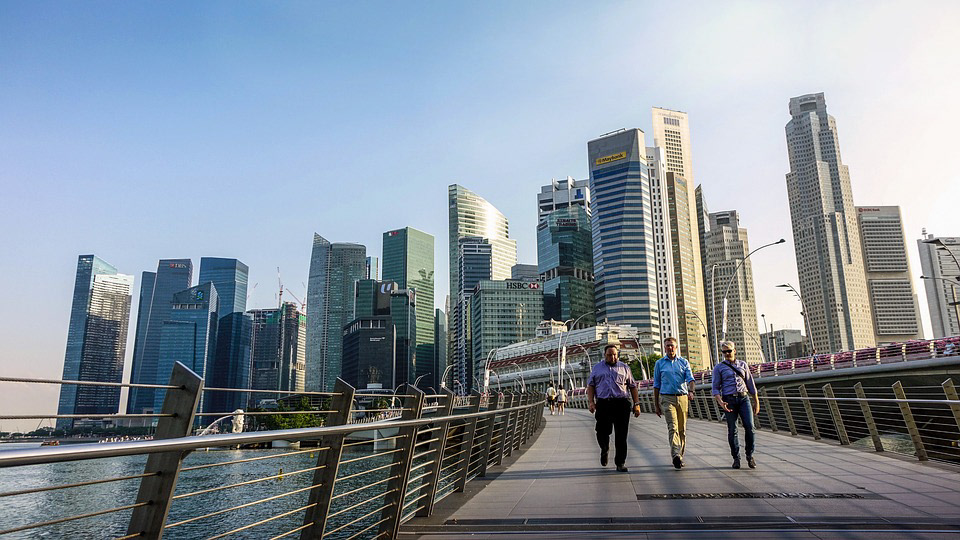 Challenge
Nuveen, is an investment corporation operating in the asset management space. Nuveen started in the municipal bond underwriting business and remains active in municipal bond market. Nuveen sells services including separately managed accounts, retail mutual funds and closed-end funds (Wikipedia). They needed to redesign it's digital face to ensure it retained it's existing customers and built a brand that was attractive for potential customers. To truly solve this problem BEAM needed to engage in the entire design process so we set off with our research. When I joined BEAM for the spring as a UX Strategy Intern our interactions with the client had just begun, and I stayed through the entire research process working with UX strategists, designers, and others to help deliver.

Research Goals
-
Understand high-level business drivers
for Nuveen's site redesign and core objectives motivating this work.
-
Gain insight
into the needs, buying process and influences of target advisors (FA & Wholesalers) What are they and how are those needs being met?
-
Determine what type of relationship
high-value advisors want to have with their wholesaler.
- What are the
most crucial intersections
with the brand at acquisition, sales, onboarding and post sales?
- How should
these relationships work across digital, analog and in-person
touch points?
- What are the experience elements that Stakeholders feel are working well and where do they see the
biggest opportunities for improvement
?
-
Define target advisors'
current perceptions of the Nuveen brand.
- Assess
awareness and perceptions of Nuveen's 3 core investment pillars
(e.g. Socially Responsible Investments, Income, and Alternatives)
-
Identify key benefits and points of difference
for Nuveen's leading offerings.
Interviews
Our project with Nuveen required dozens of interviews across various demographic groups. The objective was to gain a stronger understanding of Nuveen stakeholders and identify similarities/differences between certain sub-groups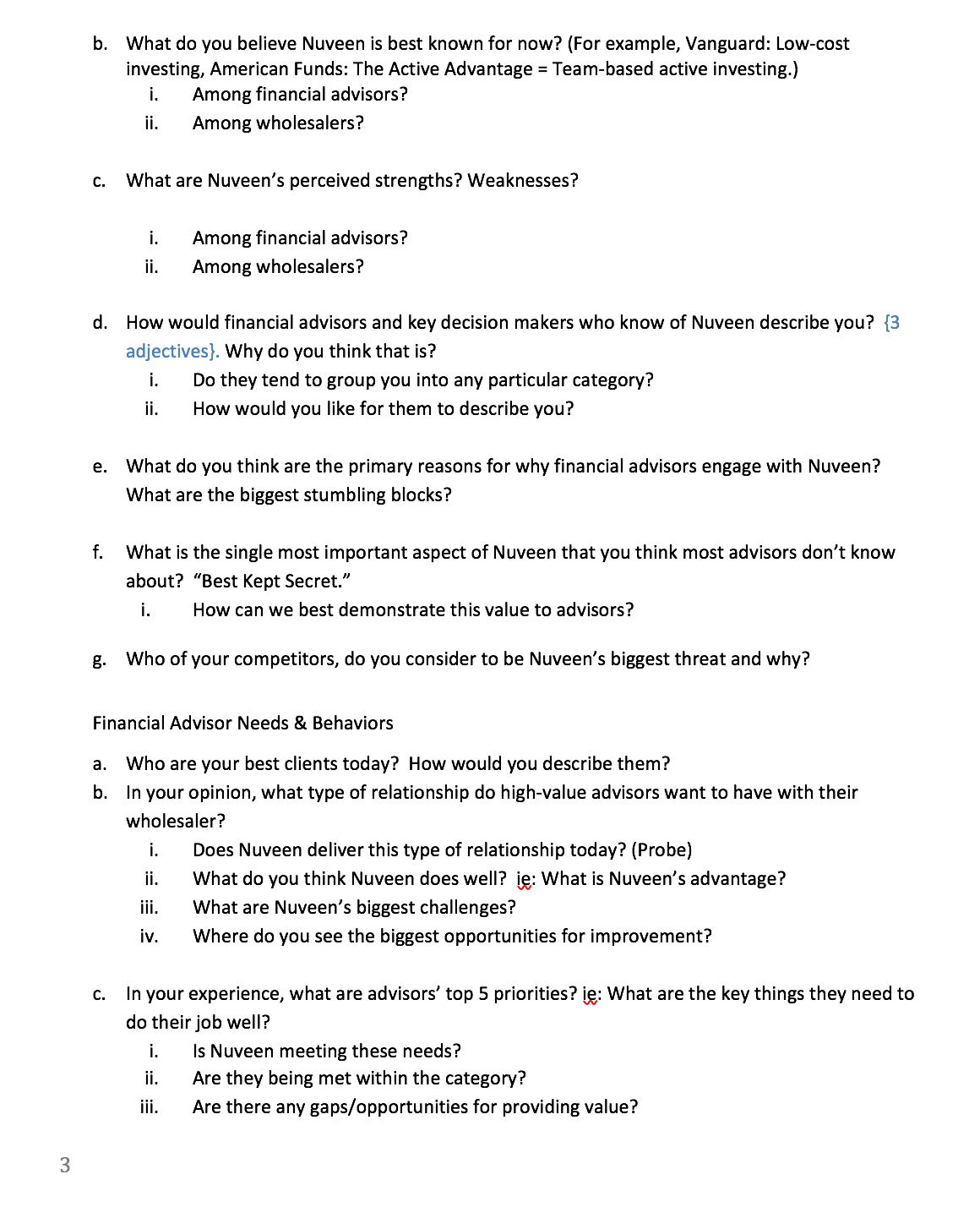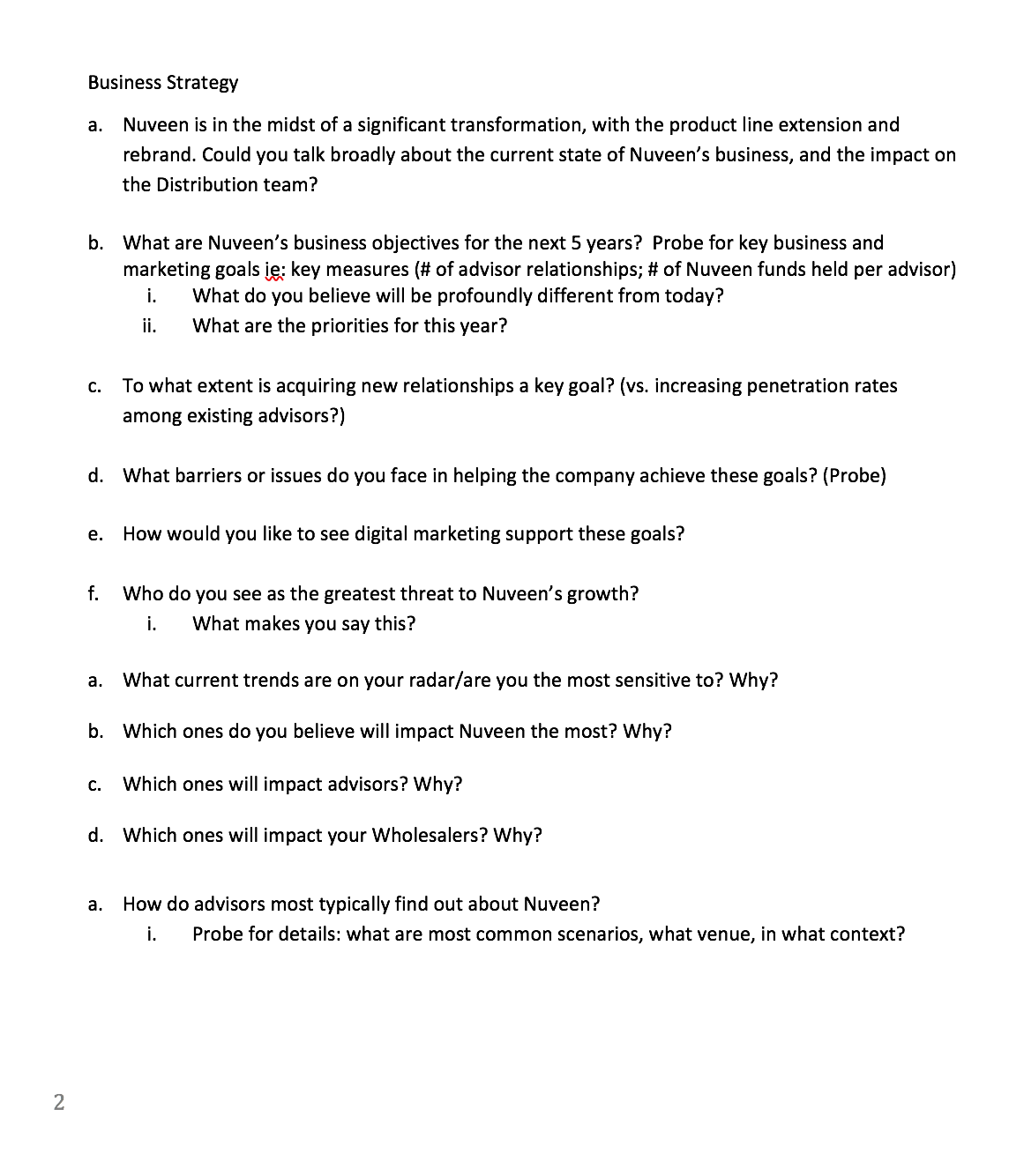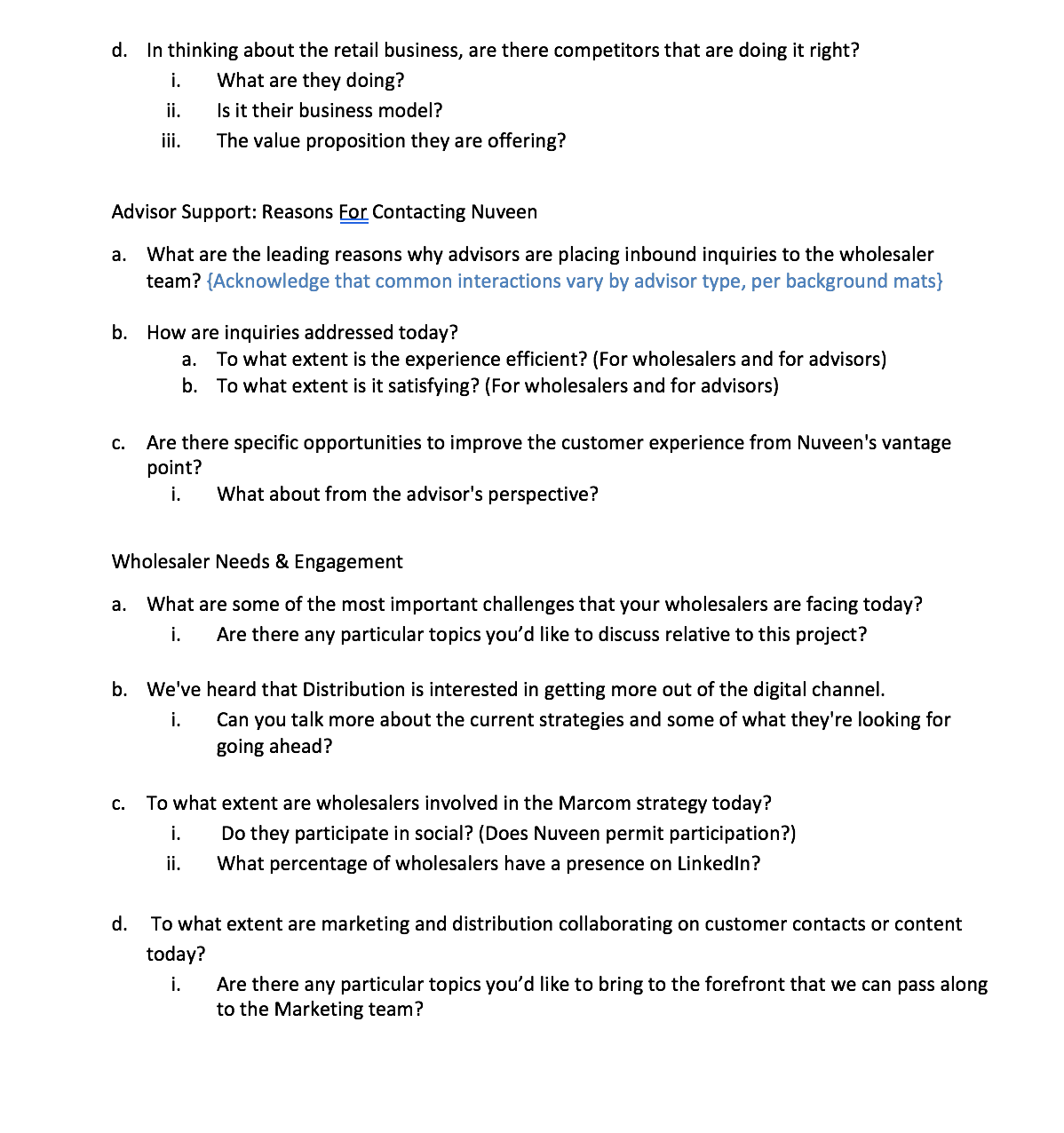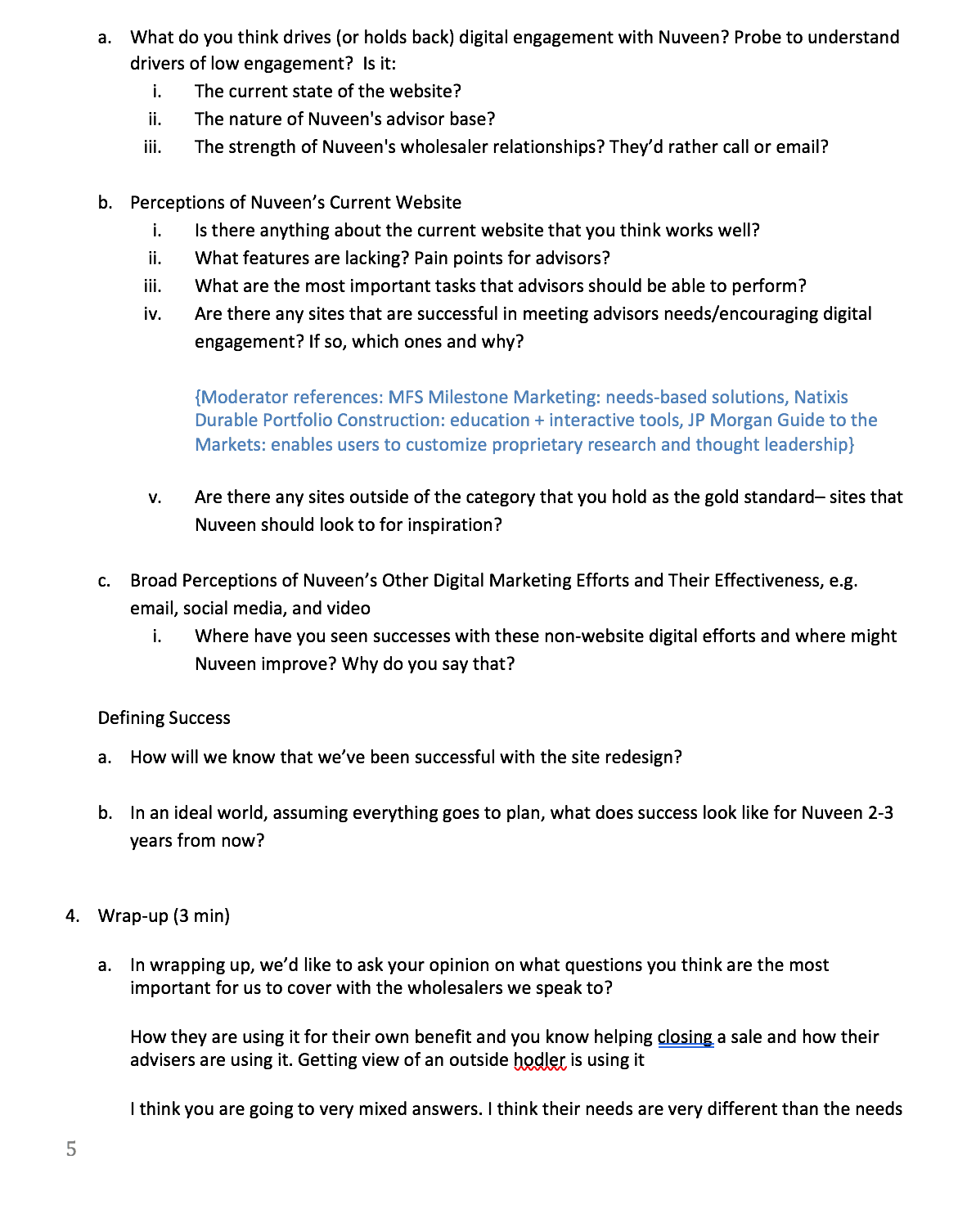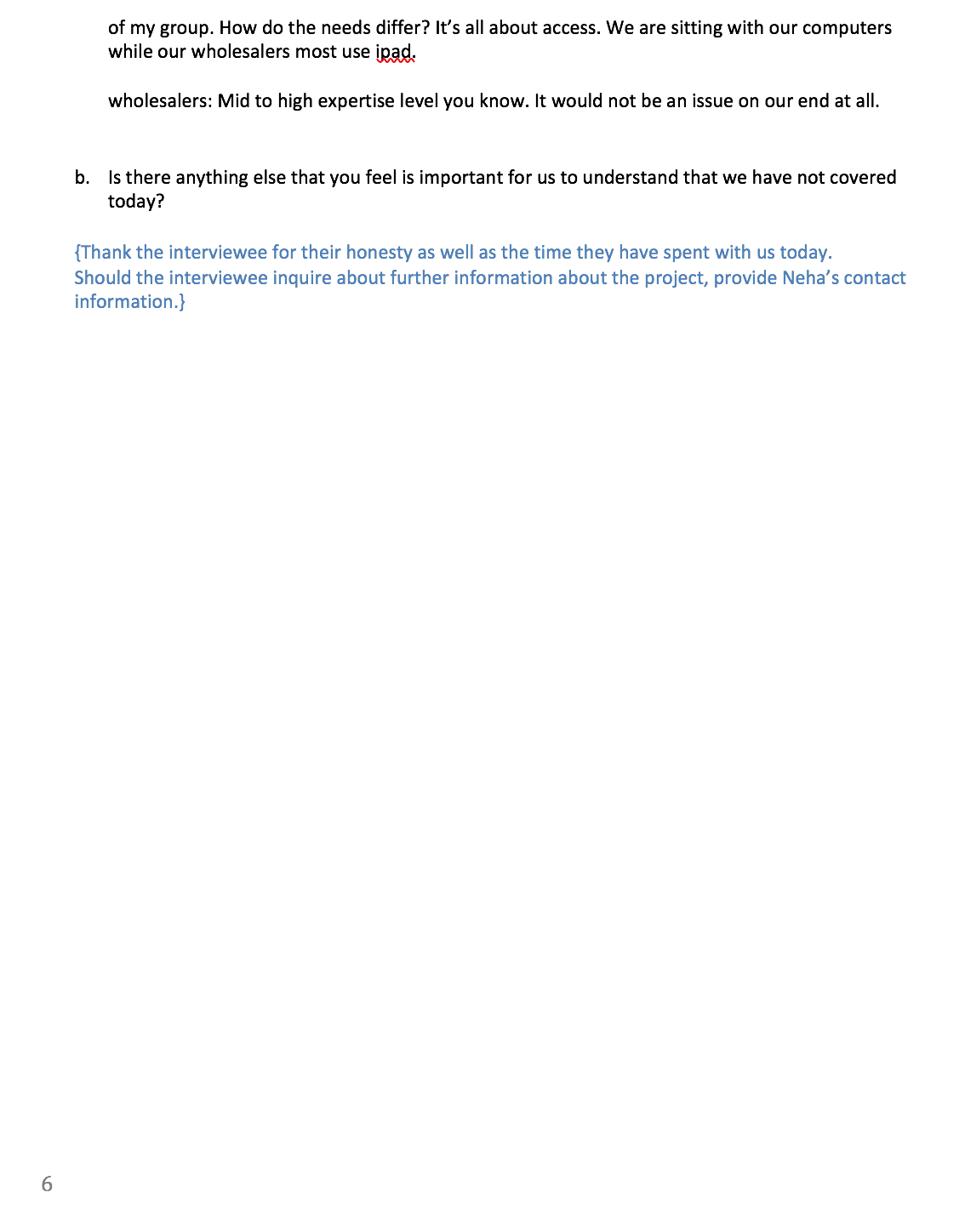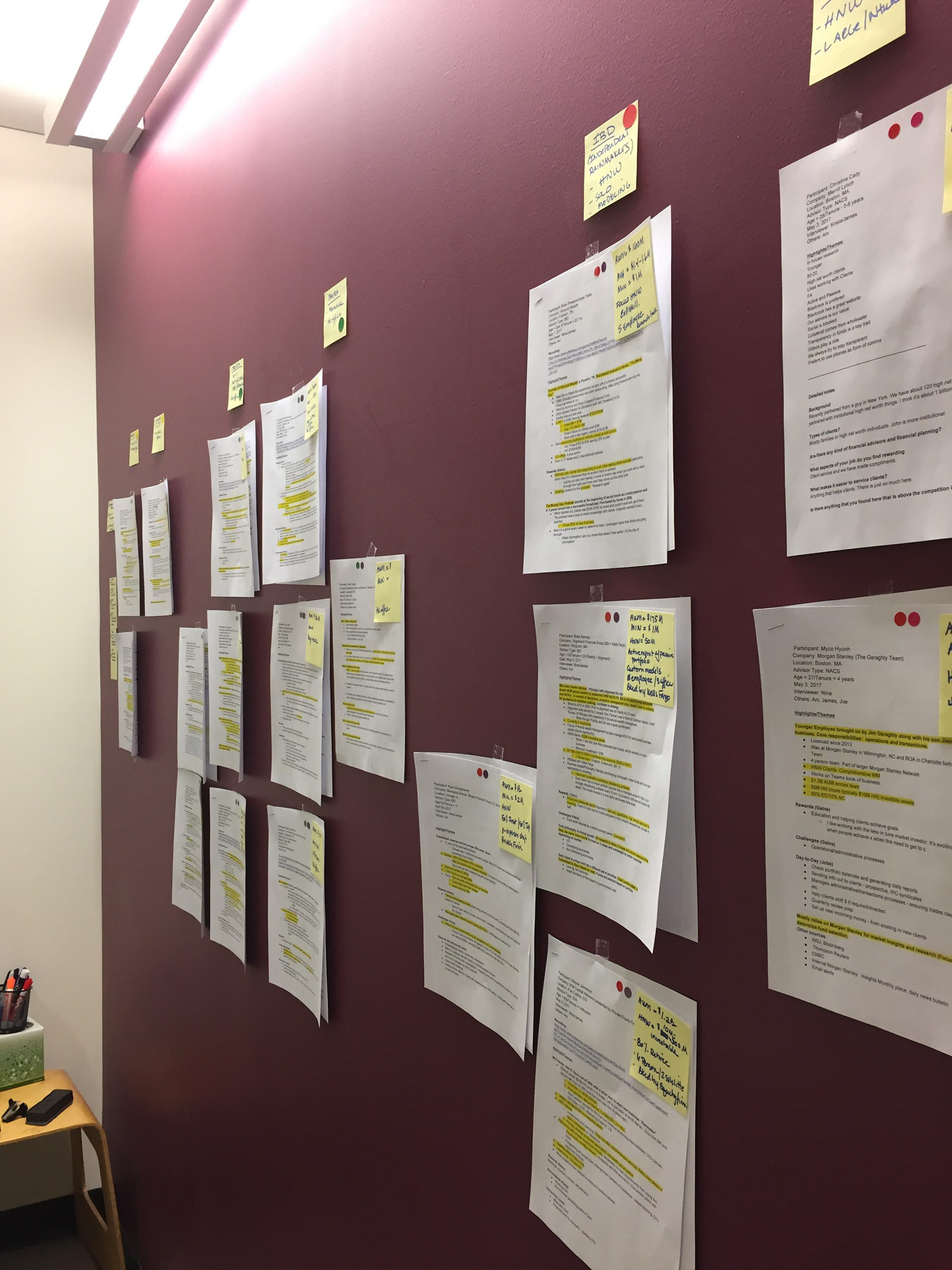 Secondary Research
To truly understand what our interviewees were trying to tell us and to get a better understanding of the company and it's business. Our team did quite a bit of research on Nuveen, financial advisors, and the outlook of the industry.

In the process we explored market perceptions of Nuveen, what financial areas they are involved in. We also did research on how financial advisors interact with investment firms, and general research on how financial advisors make trades for their clients.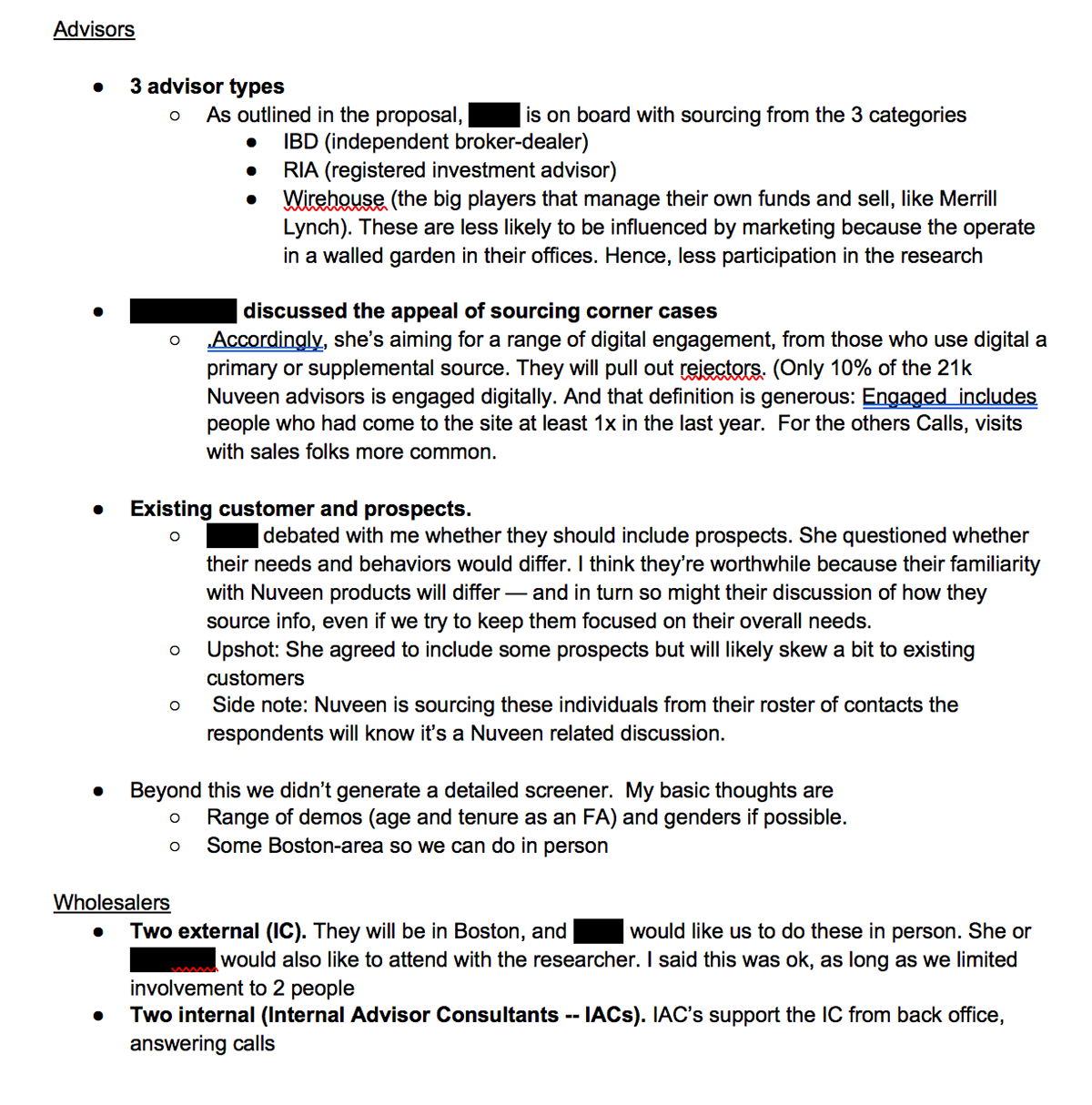 Personas
Our deliverable to the company consisted of 3 customer journeys and a deck compiling all the primary and secondary research we had gathered. We also relayed potential areas of opportunity that Nuveen could embark on to help transform their digital experiences.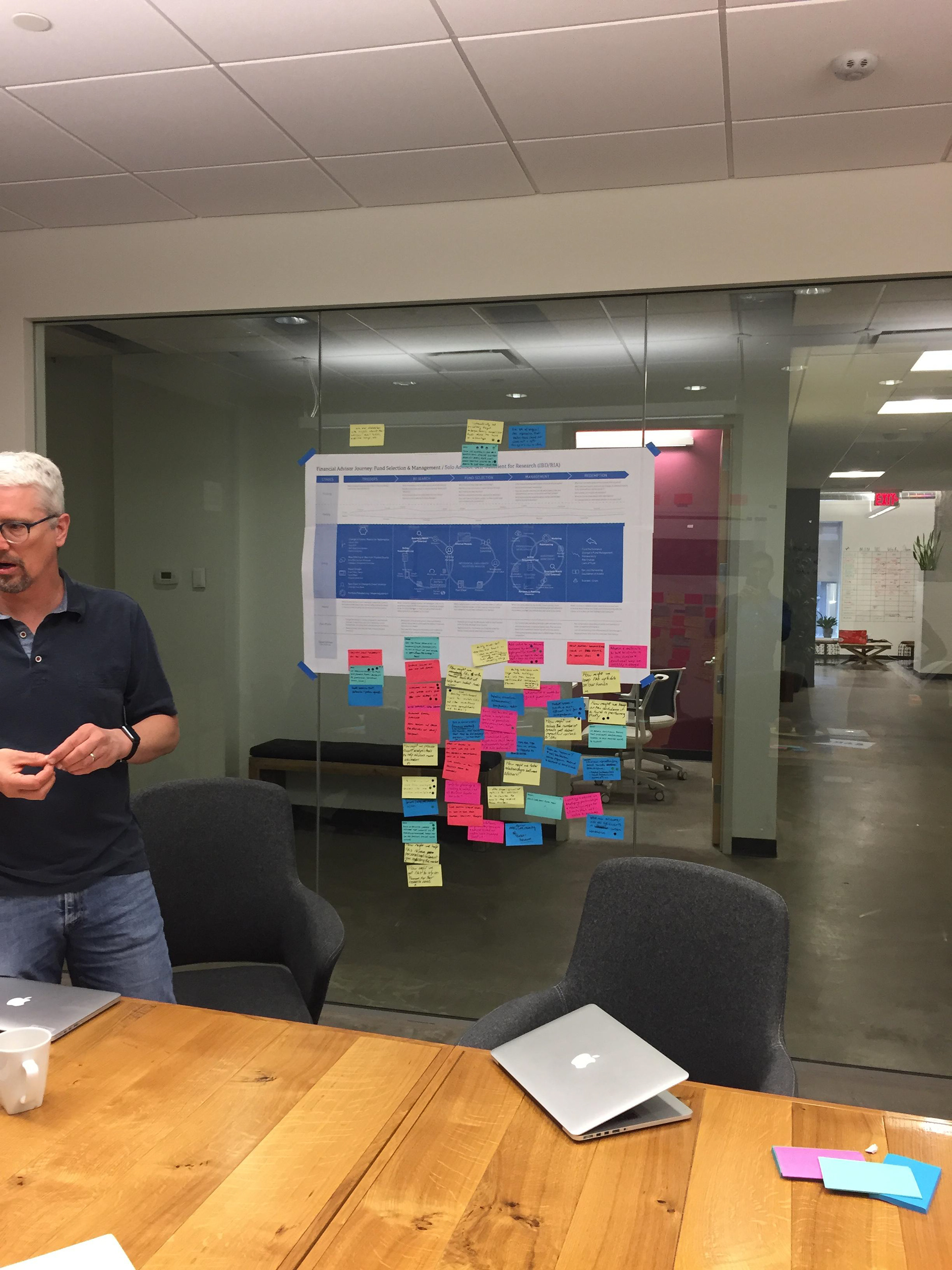 - 3 distinct provisional persona groups began to emerge, one persona was older financial investors with extremely limited technical expertise and limited financial expertise. The 2nd group were middle aged institutional investors, highly successful with 100s of millions under management. The third group were apprentice advisors with a few years of experience and stronger tech skills. This third group was far away from Nuveen's business.
- All investment types have different personalities and different values.
- Nuveen was perceived as a conservative, trusted, and slow brand. Good place to store passive income, not known much for aggressive active fund management. 
- The next shift has to be to appeal to younger investment managers in terms of tools and branding queues.
- The research showed that Nuveen's brand was extremely outdated, appealed to older and increasingly out of touch fund managers. The next step in this process would be to modernize the company's brand and build tools and processes to appeal to the next generation of incoming fund management and investment advisors. 
On a small team of UX strategists and researchers, I served a few complimentary functions:
- Helped establish context
for the team through secondary research, and through analysis of interviewees and their roles in relation to Nuveen.
- Increased team communication
 through increased conversation, co-working and white-boarding
sessions.
- Created order out of chaos
 by recording interviews, noting trends, helping create journey maps and personas.
- Participated in team meetings
 by contributing ideas and acting as a scribe. I connected the dots, kept important notes of our meetings, and followed through the process.
- Did UX research
 with the senior UX strategist at BEAM,
- Acted as an assistant for 32 interviews
 and used tools out of our UX toolkit to made sense of the trends and patterns we were seeing.
- Assisted the team leaders 
through Trello board assignments to help ensure our research was top quality.
- Edited personas, scenarios, and the final presentation deck
 for presentational purposes.
- Participated in an opportunity finding exercise
 to help team members and Nuveen plot possible next steps.
 
OUTCOME

Our task was to help Nuveen understand who their users are, how they are perceived in the investment space by their stakeholders, Issues with their process and digital tools, and what opportunities they could pursue. BEAM was tasked with helping do the UX research surrounding their digital face.